Traffic Lights Controller
Availability:
out of stock
0 item(s)
Ask a question for this product
Upon request
The Maestro traffic lights controller series are suitable for almost all modern traffic control systems.
Type S (Small)
1 CPU
2 SSM (8 signal groups)
1 PSM
1 I/O Module
1 MMI Module
Type M (Medium)
1 CPU
4 SSM (16 Signal groups)
1 PSM
1 I/O Module
1 MMI Module
4 Loop detector modules (16 loop detector inputs)
Type X (Extended)
1 CPU
8 SSM (32 Signal groups)
2 PSM
2 I/O Module
1 MMI Module
8 Loop detector modules (32 loop detector inputs)
Available Modules
Power Supply Module – PSM
Signal Switching Module – SSM
Central Processing Unit Module – CPU
Backplane module for CPU, SSM, PSM modules - BP
Input/Output Module - IOM
LD4 Loop Detector Module – LD4
Backplane module for IOM and LD4 modules – IOBP
Man Machine Interface Module - MMI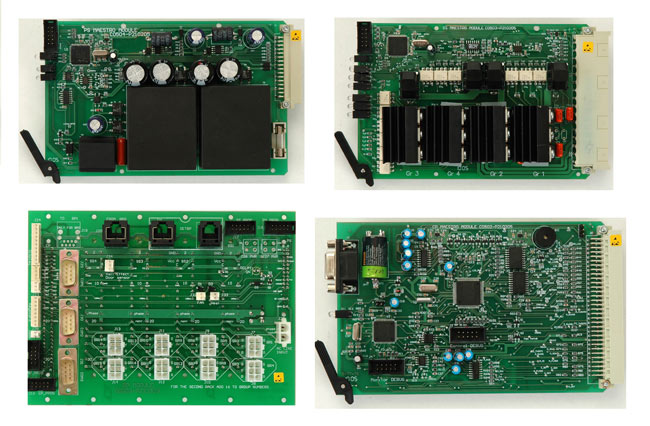 Key Features
Microcontroller-based modular structure.
Iron cabinet epoxy painted RAL 7032, stainless steel on request.
CMOS Technology.
Ingress protection IP54.
Easy programming with the Bluetooth or RS232 interconnection.
Up to 96 signal outputs / 32 signal groups.
4, 8, 12, 16, 20, 24, 28 and 32 group options.
Up to 16 phases can be defined / 96 phase transition structures.
Up to 16 signal sequences can be defined.
Every signal sequence can contain up to 48 signal steps.
Work schedule/ daily plans up to 16 entries.
Precision lamp current and voltage controls and secure signaling.
Ethernet, GPRS and SMS remote connection options.
2 separate programming interface for new and experienced users.
External connections 2 x RS232 port (PC, GSM, GPS, etc.).
Traffic Adaptive mode of operation for the logical function blocks.
Simulator.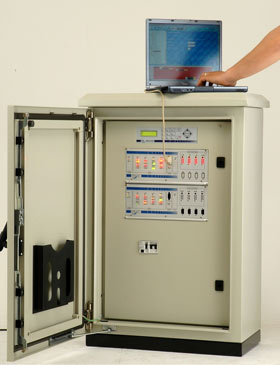 Technical Specifications
• Mains connection:

230 V AC (-20%, +15%) / 50Hz

• Internal Power consumption:

max. 30 W (except heater)

• Max. Total lamp load:

4500 VA

• Protection:

Individual fuse protection for each color output, a basic over voltage protection module on the mains and modem line inputs.
Lightning protection module is available on request.

• Legislation, Norms, Directives:

HD 638S1, EN 12675, EN 50293, related CE directives.

• Ambient Temperature:

-25°C to +55°C outdoor temperature.

• Max Allowable Humidity:

95%

• Max Allowable Altitude:

3500m

• Applied Technology:

Fully electronic design, dual microprocessor with NEC 70F3261 (Control Processor) 384Kbyte flash memory and 32 Kbyte RAM 512Kbyte Eeprom and NEC 70F3233 (Monitoring Processor with CAN Bus), serial ports for GPS, GSM, PC. Max. 96 signal outputs, max. 32 signal groups.
Max. Load of signal outputs is 400W.
Min./Max. monitored lamp load 12W / 300W, max. monitored lamp quantity per output 4 use of 4 channel detector loops, max. 32 loops.
UTC connection Sitraffic , Lilliput.

• Operation / Data Input:

Back lighted 4 line LCD display for quick information about system status and events, full data input via Maestro User Tool.

• Clock source:

GPS, crystal oscillator or mains.

• Switch on / off sequences:

Freely programmable steps for each sequence.

• Signal output pattern:

Any signal pattern is possible.

• Number of phases / signal sequences:

16 phases / 16 signal sequences can be defined.

• Number of signal plans:

16 signal plans can be defined.

• Program schedule:

16 day lists with 16 switch times in a day can be created; they can be assigned for 32 entries consist of day of week, holidays and a date period.

• Housing:

Epoxy painted (RAL 7032) iron cabinet (stainless steel is available on request) for plinth mount 950mm height x 900mm width x 400mm depth, 85-95kg (acc. to capacity) net without package.

• Heater / Fan:

PTC controlled 30W / 220-240V 100CFM.