Flexible Traffic Sign Post
Availability:
out of stock
0 item(s)
Variant price modifier:
Salesprice with discount:
Sales price without tax:
336,00 €
Price / kg:
Upon request
The robust construction of the fully reflective DS-EPK96 traffic sign bollard will ensure long lifetime and great resistance to impacts.
The frame of the bollard will not compress thus preventing the rigid reflective material from ceasing and cracking.
Following impact or vandal rotation, the rubber base will always return to its correct orientation.
No springs or mechanical parts are used, the bollard will absorb impacts from any direction ensuring its excellent performance.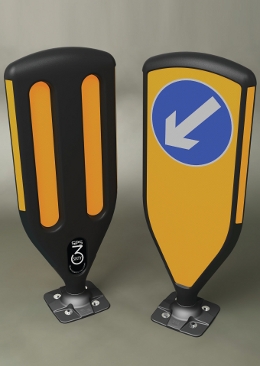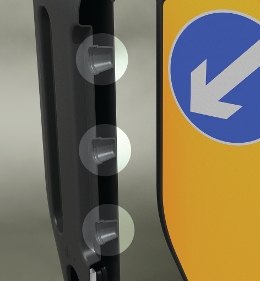 Key Features
Robust construction due to internally moulded reinforcement struts.
Natural rubber base incorporating a 3mm "moulded in" steel base plate for added strength delivers a high level of vandal resistance.
The fluorescent yellow reflective materials provide high visibility night and day.
Side reflectors are angled for additional conspicuity from the front and rear; they are particularly effective for vehicles turning into junctions which ordinarily would not catch the reflective panels on the bollard.