Traffic Lane Separator (Middle Part)
Availability:
out of stock
0 item(s)
Variant price modifier:
Salesprice with discount:
Sales price without tax:
35,20 €
Price / kg:
Upon request
Traffic Lane Separator curb system used for various traffic safety & management applications.
The reflective tapes placed on both sides are making the lane separator system visible from long distances during the night and under bad weather conditions.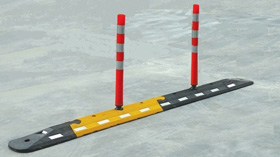 The system is consisted by the middle and end part attached with T-shape connector.

Main Characteristics
Easy installation with T-Shape connectors.
No collection of water.
Anti-skid surface.
Plug openings for installing flexible traffic posts or reflective panels.
Reflective tapes on both sides.
Environmental friendly, made of recycled rubber.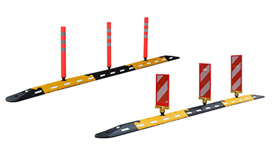 Middle part available in Black and Yellow color.
Product Dimensions and Weight
Product Length: 112.0CM
Product Width: 25.0CM
Product Heigth: 8.5CM
Product Weight: 15.0KG