Led Intelligent Solar Road Stud
Availability:
out of stock
0 item(s)
Variant price modifier:
Salesprice with discount:
Sales price without tax:
79,12 €
Price / kg:
Upon request
I-STUD Evolution technology applied in DA-SRi15 increases the performance of solar power studs with energy storage by battery or capacitor.
The main advantage of i-stud evolution series is the use of microcontroller technology inside each stud, which provides several beneficial features and control options.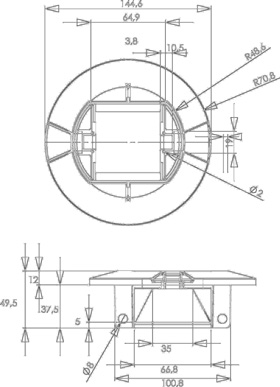 Key Features
Wake Up/Sleep function
Allows the stud to stay in sleep mode before its scheduled operation, extending the autonomy of the battery.

Automatic Brightness Control
Manages the stored energy, adapts environmental brightness and regulates its light level in accordance with the energy charged during the day.

Definition of the Working Period
Set up the number of the operating hours of the i-stud after night detection.

Operation Mode Flash / Always on
Switch the stud's mode from ''flashing'' to ''always on'' and vice versa after installation.

Flash Rate
Adaption of flash rate after installation.

Night Level Detection
Adjustment of the lighting level detection (Lux).

Operation Mode Uni or Bi-directional
Modify the light direction temporarily or permanently.

Low Temperature
Detects the possibility of ice forming on roads and change the Led color to warn drivers about the dangerous weather condition.

Log File
If a problem occurs, the unit is able to make an internal log (self-test feature) to discover what caused the problem.
Technical Specifications
Optical
Led Number: 1 or 2 Led (Uni-directional), 2 or 4 Led (Bi-directional) – 5mm.
Led Color: Amber, Red, White, Blue, Green.
Led Configuration: Uni and bi-directional with the possibility of using different Led colors in the same unit.
Mechanical
Projection: 12,7mm above ground.
Minimum Installation Depth: 50 mm.
Construction Material: Aluminum and polycarbonate.
Mechanical Resistance: 60 Tons.
Ingress Protection: IP68 and IK10.
Product Dimensions and Weight
Product Length: 144.6MM
Product Width: 144.6MM
Product Heigth: 50.0MM
Product Weight: 0.5KG