Temporary Standalone VMS Panel
Availability:
out of stock
0 item(s)
Ask a question for this product
Upon request
This Full Color Solar Powered VMS provide important information to drivers for the traffic conditions. Maximum height at 6 meters.
A considerable advantage of this system is the low price and the high resistance to vandals.
This mobile roadside VMS unit is completely standalone, solar powered, easy to use and easy to place.
Suitable for use on road works.
Other applications of the unit include special events for entertainment purposes.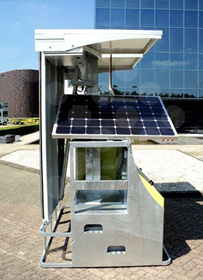 Technical Characteristics
Adjustable in height using hydraulics or with the use of a crane.
Lifting / rotating LED screen.
Operated with batteries in combination with solar panels or a 230VAC (streetlight) connection.
Several types of LED displays available, certified according to EN-12966.