VMS Trailer MATRIX
Availability:
out of stock
0 item(s)
Ask a question for this product
Upon request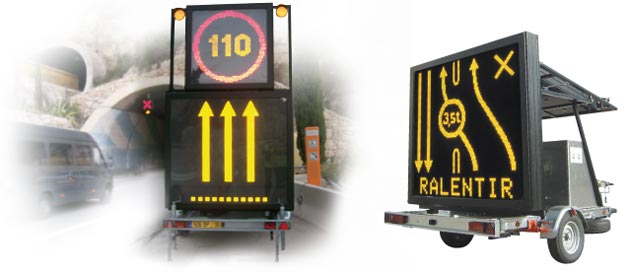 This variable message sign trailer is equipped with two (2) high intensity LED displays.
Created to provide temporary mobile signalling on roads and motorways, it presents to road users useful information on traffic conditions, road work developments and road bypasses.
Technical Characteristics
Structure
Single axle chassis of total 1300 kg.
Manual stabilizers.
Parking brake.
Inertial braking.
Adjustable height draw-bar.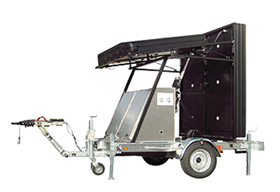 Fixed lower part display
Monochrome graphic 128 x 96 point matrix. Used to display text, KD signs and animations.
Moving upper part display
Two-color graphic 48 x 48 point to 64 x 64 point matrix. Used to display "normal to very large" range of traffic signs.
Control
On site, by laptop PC or thumb-wheel.
Remotely, by GSM link, radio etc.
Programming from a PC
Software provided on CD ROM.
Files backed-up on hard disk.
Programming of messages, animations and signs from database.
Multi-level access code for security of programming.
Modular design
Generator set & batteries charger.
Electrically operated stabilizers.
GSM modem.