Led Light Tower Unit (LLTU)
Availability:
out of stock
0 item(s)
Ask a question for this product
Upon request
During roadwork or in any work zone, good lighting is necessary.
Sometimes you need more than just 1 unit in place with one transport. That is why the LLTU was developed.
The solar powered LED tower light can easily be transported, up to 60 pieces on one truck.
This lifting unit has been full-scale crash tested to guarantee the safety of both the traffic and road workers.
Optionally, these telescopic led light towers can be mounted on a trailer frame or hook frame, to add even more multifunctional applications. It is also available with a mobile light tower trailer which is equipped with solar panels, LED lighting and batteries.
Technical Characteristics
Aluminum 5 steps telescopic pneumatic tower.
Total height 9m.
Locking system on each section.
Internal wiring harness.
Galvanized steel mig welded construction.
3 holes for hoisting the unit.
Fork lift tubes.
Aluminum cover painted in many available colors.
3 unique rotatable spring locked sprocket jacks.
3 galvanized swivel jacks.
Ultra bright LED lighting.
Different kinds of LED lights available.
Street light or Flood lights mounted.
Automatic darkness sensor (switch on / off).
2 brightness levels.
Warm white 4300K color temperature (standard).
Long life Gel AGM battery pack.
Loading plug 175 Ah.
Power fuse.
Solar system 50Wp (standard).
Solar charger with LCD display (shown voltage / loading etc.).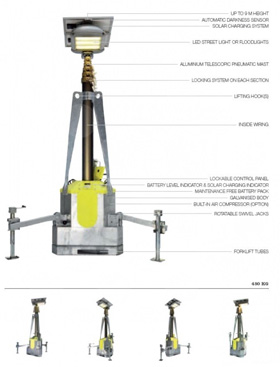 Options
We can install various camera systems.
Bigger Solar system available.
Standalone Time (Excl. Solar Charging)
Street light 50% brightness: 16-25 Nights (winter / summer).
Street light 100% brightness: 8-12 Nights (winter / summer).
Flood light 100% brightness: 10-14 Nights (winter / summer).