Led Light Tower Trailer (LLTT)
Availability:
out of stock
0 item(s)
Ask a question for this product
Upon request
During roadwork or in any work zone, good lighting is necessary.
The LLTT is a mobile light tower trailer which is equipped with solar energy, LED lighting and batteries.
This unique maintenance-free, high quality standalone system is a new concept that meets the challenge with diesel-guzzling light tower trailers which are sold today on the worldwide market.
Technical Characteristics
Variable number of LED lamps and batteries available.
Solar energy system.
Adjustable drawbar (articulated arm).
No fuel / maintenance free.
Total height 8m.
Standard electric mast.
Galvanized steel mig welded trailer chassis.
Rubber torsion suspension axles.
4 holes for hoisting the trailer
Fork lift tubes on top.
Aluminum body.
Aluminum lockable side doors (with build in solar panels).
Aluminum body & doors painted in any preferable color.
4 Unique rotatable spring locked sprocket jacks.
4 galvanized swivel jacks.
Standard equipped with 4 LED ultra bright adjustable flood lights.
Automatic darkness sensor (switch on / off).
2 brightness levels.
Long life Gel AGM battery pack.
Loading plug 175Ah.
Power fuse.
Solar system on all doors (standard).
Optionally a bigger solar system can be installed.
Solar charger with LCD display (Voltage / loading etc.).
Weight: 745kg.
Standard equipped with lockable tool box.
Driving lights.
Plastic mudguards with extra mud flaps.
2 plunger plates.
2 pallet wheels at the back.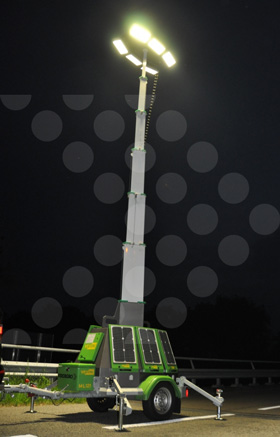 50% brightness: 9 - 12 Nights ( winter / summer ).
100% brightness: 5 - 7 Nights ( winter / summer ).