Highway VMS
Availability:
out of stock
0 item(s)
Ask a question for this product
Upon request
Variable message signs for the highways sector, referred to as strategic VMS, encompass signs and systems to aid traffic management, predominately for major road schemes and bridge flow control. Applications include:
Driver information and control.
Variable speed limit signs.
Lane control indicators.
Lane control.
Controlled motorway indicators.
Traffic management systems.
1. VMS4
The VMS4 is designed to meet the changing needs of traffic authorities and improve the quality of information available to motorists. It offers a full graphics area with a matrix of Leds in two colors.
This makes it capable of displaying an almost infinite range of pictograms and legends.
VMS4 signs can be mounted on a variety of structures, including a cantilever post, and can be controlled by GSM, Radio, TCP- IP, Internet and an RS485 bus.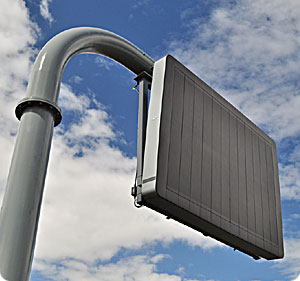 Features and benefits
Flexible two color display - red, amber, green or white.
Full matrix display - available in a number of different sizes.
Cost effective, lighter in weight.
Fully programmable - can display an infinite number of traffic symbols and/ or text displays.
Specified to European specification EN 12966.
2. VMS3
The electronic variable message signs have become a familiar sight on the motorways and major national roads of many countries. They provide road users with information on road conditions ahead, improving safety and helping to reduce congestion.
The VMS3 Series consists of three models offering 2 and 3 lines of text, with character heights of 320mm or 400mm.
The individual character modules can be configured as discrete characters or continuous matrices and have been built in one, two, three, four and five line configurations.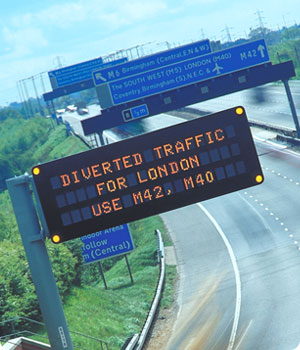 The 400mm character signs incorporate graphics area capable of displaying symbols and legends.
VMS3 signs can be mounted on a variety of structures and can be controlled by GSM, Radio, TCP-IP, Internet and RS485 bus.
Features and benefits
Flexible messaging capability.
Alphanumeric, legend and symbol display.
Character size, configuration and mounting options.
Performance to European specification EN 12966.
3. VMS AMI
The Advanced Motorway Indicator (AMI) has been developed to meet the changing needs of traffic authorities whilst fulfilling the expectations of the motorist.
Conforming to European specification EN12966, among its many market-leading features, AMI offers Optical Feedback providing actual light-emitted detection to enable legal enforcement.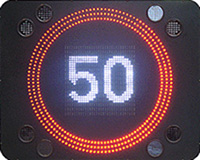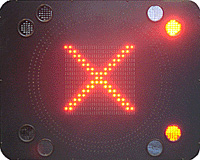 Features and benefits
Flexible multicolor display: red, amber, green, white.
Controlled motorway applications allowing variable speed limits.
Optical feedback for legal enforcement.
Performance to European specification EN 12966.
Applications include:

Variable Speed Limit Signs
Lane Control Indicators
Dynamic Lane Control Unit
Lane Control Signal
Controlled Motorway Indicator

 
4. VMS LCS
Lane Control Signals (LCS) are predominately used on continental Europe where individual lanes of traffic are controlled, as opposed to a larger sign controlling all the motorway lanes.
The upper part of the sign is fully populated with a two-colour fully programmable matrix system.
The lower part of the sign is fully populated with yellow Leds which show the distance to the hazard, as well as having a part  that can display a green arrow.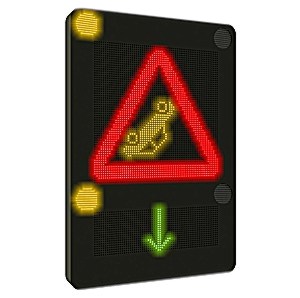 Features and benefits
Available in standard size format.

upper display of 1280mm x 1280mm
lower display of 1280mm x 320mm

Fully programmable two color LED matrix.
20mm pitch between pixels.
Choice of Led colors available.
Conforms to the European specification EN 12966.
Interfaces to all software protocols.
5. VMS TUM
We offer a range of special signs for tunnel applications, starting with electronic signs for use on the approach and entrance to a tunnel to deliver specific messages.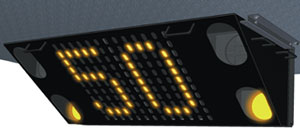 Lane control signs are used above each traffic lane at the approach or entrance to a tunnel. They are repeated at regular intervals inside the tunnel.
Where the speed limit can vary in a tunnel, speed limit repeater indicators are used to allow the tunnel master to vary the speed limit according to traffic and road conditions.
We can also offer custom solutions to specific problems, e.g. low profile signs for reduced headroom applications, and dual-faced signs for use where tunnels must accommodate contra-flow traffic.
6. VMS BFM
The demands of bridge and ferry management applications can be very similar to tunnel systems with the added problem of environmental conditions.
Bridges are often built in exposed locations and can be subjected to extreme weather requiring reliable monitoring and control systems.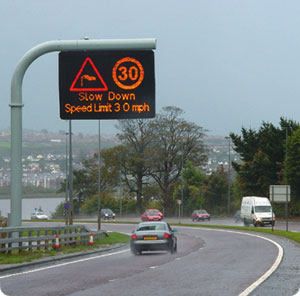 ITS (Intelligent Traffic Systems) technology was developed to meet such demands, pushing the boundaries of radio data communications and introducing novel advisory needs.
The bridge master can provide information for the weather conditions and traffic flow on, or near the bridge by using variable message signs. Drivers are informed for planned maintenance, traffic conditions and exceptional events like full or partial closures due to high winds and/or icy conditions.